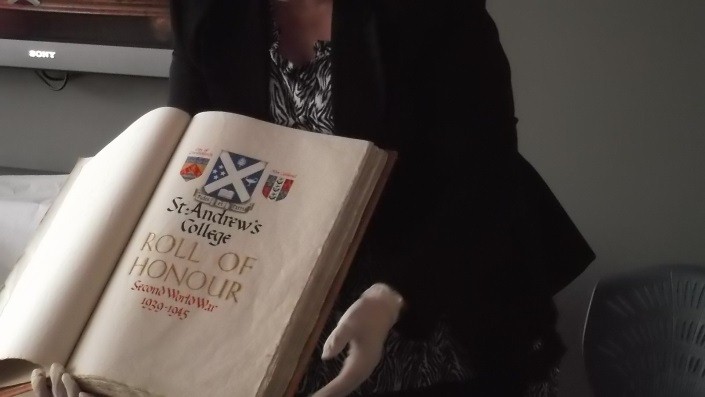 Mrs Fenton came to show us the Remembrance Book that has been rescued from our school Chapel.  It has the names of all the people who attended St Andrew's College who died in World War II from 1939-1945 and other military deaths after.
We started off learning about William Mackenzie who was a Chaplain and didn't have any weapons, but instead a shepherd's crook and a spade. In his spare time he made steps to make it easier for stretcher bearers and they were called Old Mac's Steps. He also spent his time burying soldiers who died.
When Mrs Fenton unwrapped the Remembrance Book there was about 5 layers of paper over it. You have to wear white gloves to read and to touch the book. The paper is old and thick. The cover is made of leather and carved in it there is a thistle, a silver fern and the St Andrew's College coat of arms. The first page has the NZ coat of arms and the Christchurch coat of arms with 'Roll of Honour' in gold capital letters.
By Teyha Laws (5AL)