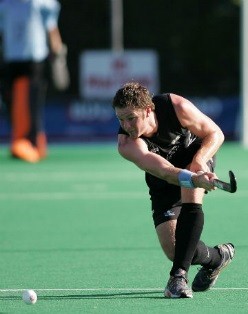 Bradley Shaw plays hockey and is 31 years old. His home town is Christchurch, NZ. His playing strength is tackling while his weakness is scoring goals. Bradley is in the Blacksticks which is our national hockey team. He is also in the Hockey National League (NHL.)
He has achieved many things in his career including scoring the winning goal in extra-time during the finals against Argentina in the Olympic qualifying tournament. This helped send the Black Sticks to the Beijing Olympics in 2008. His team was awarded the 2004 Champions trophy in Pakistan and most recently he was in the 2014 NZ Commonwealth Games team.
He trains on average for 12 hours a week (13-14 sessions) including team training, individual training, aerobic fitness and gym training. He shows persistence by focusing on the tiny skills and trying to do them well (e.g. GET THE BALL!) He is aggressive, honest, a knowledgeable player and thinks about other players' perspective. He also breaks down skills to work on in training and games and tries to do them well.
He is a very interesting player and we are very proud of him at St Andrew's College.
By Jai Bartlett 4SK